NATIONAL
Monsoon Session of Parliament to begin from July 21, 2015
The decision to convene Parliament was taken at a meeting of the Cabinet Committee on Political Affairs.
The committee also has recommended President Pranab Mukherjee to convene the three-week Session from 21st of July.
Session of parliament
Session of parliament is the period during which the House meets to conduct its business.
Article 85 of the Constitution empowers President to summon each House of the Parliament.
By convention Indian Parliament conducts three sessions each year.
They are Budget session: February to May. Monsoon session: July to September. Winter session: November to December.
Maharashtra government decides to invoke MPDA,1981 against sand mafia, black marketers
Maharashtra government has decided to evoke Maharashtra Prevention of Dangerous Activities Act (MPDA), 1981 against those involved in black marketing of essential commodities and sand mafia.
Decision in this regard was taken by state cabinet meeting chaired by Devendra Fadnavis in Mumbai. Cabinet also approved proposal to amend parent Act in order to include criminal activities related to sand mafia and black marketing.
The decision to impose MPDA was taken by government in order to tackle the menace of black marketing of essential commodities and sand mafia in state and to prevent organised attacks against revenue officials and employees by sand mafias and smugglers.
In order to incorporate sand mafia and black marketers in the ambit of law, definitions of sand smuggling and sand smuggler (mafia) will be added in section 2 of the Act.

Apart from this state government is also going to take action against those involved in assisting those sand mafia and smugglers.
PM to launch three mega schemes to enhance quality of life in Urban India
Prime Minister Narendra Modi will launch three flagship schemes for urban revamp.
The three projects are Smart Cities Mission, Atal Mission for Rejuvenation and Urban Transformation, AMRUT and Housing For All.
The schemes will be an important milestone for urban development in the country. Rs 48,000 crore Smart City mission is aimed at applying smart solutions to improve infrastructure and service delivery in the cities.
The cities will be selected through competition.The AMRUT mission, worth Rs 50,000 crore, aims at infrastructure development of 500 cities with population of over one lakh.
It ensures basic infrastructure like sanitation, drinking water, solid and waste management and transport. It aims at improving urban governance through reforms.
Housing For All mission will enable decent houses to all the needy, particularly the economically weaker sections and low income group. The mission will be taken up in all the 4041 notified towns across the country. 2 crores house will be built for urban poor with central assistance of Rs 1 lakh to Rs 2.3 lakh. It promotes slum free cities.
The schemes have been finalised after extensive consultations with states and other stakeholders. Mayors and municipal chairpersons of 500 cities from across the country have been invited for the launch

.
Union Cabinet clears Jai Prakash memorial in Bihar
The government cleared the setting up of a national memorial commemorating socialist icon Jai Prakash Narayan in his birthplace Chhapra in poll-bound Bihar.
The national memorial, cleared by the Union Cabinet, will also house a virtual museum and an institute to undertake study and research on democracy, enhancing the role of Panchayats in nation building, Gandhian thoughts and a centre for Khadi and constructive work, keeping in view the thoughts of Lok Nayak Jai Prakash Narayan.
The Lok Nayak Khadi Gaurav Samvardhan Kendra at the same place will be dedicated to making national flags by women clusters.
The memorial will be located at Lala Ka Tola, Sitab, Diara in Bihar's Chhapra (Saran) district.
Lucknow zoo renamed after last Nawab Wajid Ali Shah
The Prince of Wales Zoological Gardens, popularly known as Lucknow Zoological Gardens, was established in the year 1921 to commemorate the visit of His Royal Highness, the Prince of Wales to Lucknow.
Now Uttar Pradesh Government renamed the Lucknow Prani Udyan, popularly known as Lucknow zoo, as Nawab Wajid Ali Shah Prani Udyan, Lucknow.
Shah was the last Nawab of Oudh under whom the province was annexed by the British under the policy of Doctrine of Lapse in 1856.
Besides, the state government also renamed Nawabganj Bird Sanctuary of Unnao district as Shaheed Chandra Shekhar Azad Pakshi Vihar, Nawabganj.
The sanctuary was named after revolutionary freedom fighter Chandra Shekhar Azad because of Azad's parental ties with Unnao district.




---
INTERNATIONAL
Russia and Saudi Arabia ink nuclear energy agreement pact for first time
Russia and Saudi Arabia have for the first time signed an agreement on cooperation

in the field of nuclear energy for peaceful purposes

. The agreement was signed in Russia during St Petersburg International Economic Forum (SPIEF).
The document was signed on behalf of two governments by general director of the state corporation

ROSATOM Sergey Kiriyenko

and president of the

King Abdullah City for Atomic and Renewable Energy (KACARE) Hashim Abdullah Yamani.
The agreement is the basis for cooperation between the two countries in the field of nuclear energy on a wide range of areas that include- the design, construction, operation and decommissioning of nuclear power and research reactors, the provision of nuclear fuel cycle services, including nuclear power plants and research reactors; the management of used nuclear fuel and radioactive waste management; the production of radioisotopes and their application in industry, medicine and agriculture; and, the education and training of specialists in the field of nuclear energy.
Although, Saudi Arab has not developed nuclear power

reactors yet, It is ambitious and has plan to construct 16 nuclear power reactors over the next 20 years.
Australia to join China-led infra bank
Australia announced that it would join the new China-led Asian Infrastructure Investment Bank (AIIB) as a founding member, contributing about $930 million to the financial institution of which India will be the second largest shareholder.
Australia will contribute around a $930 million as paid-in capital to the AIIB over five years and will be the sixth largest shareholder.
AIIB will have paid-in capital of $20 billion (A$25.2 billion) with total authorised capital of $100 billion (A$126.2 billion).
The AIIB, which will be headquartered in Beijing, is designed to finance infrastructure construction in the continent. The bank already has 57 prospective members.
However, it has been shunned by the United States and Japan, the world's largest and third largest economies.
---
BUSINESS
Airtel launches 4G services in Mysore
Indian Telecom major Bharti Airtel has launched 4th Generation (4G) services in Mysuru (or Mysore), Karnataka.
With this launch, Airtel customers in Mysore can now access high speed access to the Internet using 4G LTE (Long Term Evolution) technology and enjoy the most advanced Internet experience in India.
It should be noted that Bharti Airtel is first Telecom major in India to launch 4G LTE services in the country.
They had launched the India's first 4G services in Kolkata in April 2012. Later in the course of time they had expanded this service in other major cities including Delhi, Chennai, Bengaluru, Mangalore, Pune, Chandigarh and Amritsar.
Five banks to lead NTPC's debut masala bond offering
Barclays, Citigroup, Deutsche Bank, HSBC and SBI Capital Markets are being tipped to lead NTPC's debut issuance of offshore rupee-linked bonds.
The five lenders also led NTPC's US dollar offering last November, when it raised $500 million through a 10-year Reg S-only bond priced to yield 205bp over Treasuries.
NTPC, the country's largest power company, is among a handful of Indian companies waiting to raise funds through this new market once the Reserve Bank of India finalises guidelines on such issues.
The offshore notes, also called masala bonds, will be issued under India's external commercial borrowing guidelines.
India leads FDI in South Asia with 34 billion investment in 2014: Report
India leads regional inflow of Foreign Direct Investment (FDI) in South Asia accounting for 34 billion US dollars during 2014.
According to United Nations Conference on Trade and Development, UNCTAD, the upward trend is likely to continue this year also. The report placed "China as the world's largest FDI recipient".
The UNCTAD's World Investment Report 2015 says that the FDI inflows to India surged by 22 percent to about 34 billion US dollars and improved its position to 9th top host country for FDI in 2014.
FDI inflows to South Asia rose to 41 billion US dollars in 2014. The top five recipients in South Asia of FDI inflows were India, followed by Iran, Pakistan and Bangladesh and Sri Lanka.




---
APPOINTMENTS
Tennis Icon Steffanie Graf appointed as brand ambassador of Kerala's Ayurveda
Kerala government has appointed Tennis Icon Steffanie Graf as Ayurveda brand ambassador. Decision in this regard was taken by cabinet meeting presided by Chief Minister Oommen Chandy in Thiruvananthapuram.
As an Ayurveda brand ambassador she will promote Ayurveda tourism of state in North America and Europe with theme Visit Kerala Destination.
About Steffanie Graf
Steffanie Maria Graf from Germany is former number 1 ATP women tennis player. She holds World number 1 title for the longest period (record 377 total weeks) till date.
She had won 22 Grand Slam single titles and also holds record for the most number of major wins by a tennis player (after introduction of the Open Era in 1968).
Graf is the first and only tennis player (male or female) to achieve the Calendar Year Golden Slame, winning all four Grand Slam singles titles and the Olympic gold medal in the same calendar year.
Justice Subhro Kamal Mukherjee Appointed as Chief Justice of Karnataka High Court
He will perform the duties of the office of the Chief Justice of the High Court with effect from the date Justice Dhirendra Hiralal Waghela relinquishes charge of the office of the Chief Justice of Karnataka High Court consequent upon his transfer as the Chief Justice of the Orissa High Court.




---
AWARDS
UK-based philanthropist Benni Joseph Mavelil selected for VK Krishna Menon Award 2015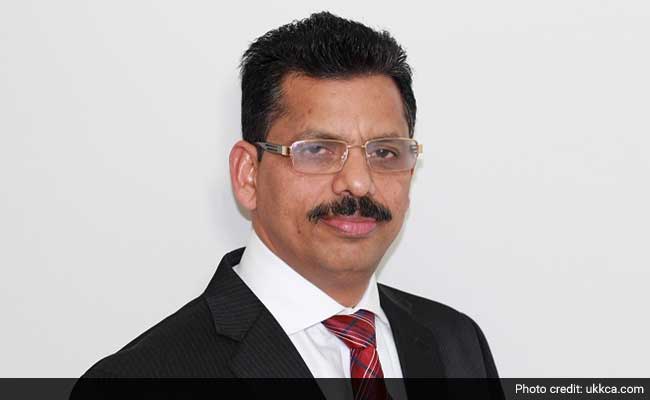 Benni Joseph Mavelil, a UK-based philanthropist, was selected for the VK Krishna Menon Award in recognition of his outstanding professional and altruistic achievements, contributions and services to the community and wider multicultural society.
Mavelil, President of the UK Knanaya Catholic Community, will receive the award at a function hosted by the VK Krishna Menon Institute in 2015.
At present, Mavelil is a registered Manager and Director for the Ideal Fostering in Birmingham, United Kingdom. He is originally from Koodalloor, Kerala and has been living and working in the UK for over a decade.
About V K Krishna Menon Award
The VK Krishna Menon award is given to outstanding Indian patriots who served in the Diaspora and have been distinguished in various fields including science, literature, business, politics, diplomacy and philanthropy.
The VK Krishna Menon Institute was established in 2006 to commemorate and facilitate the life, times and achievements of VK Menon. It awards people from India and diaspora from Asia for significant accomplishments in various fields.
Sahitya Akademi announces 'Bhasha Samman' awards
Four scholars have been awarded the prestigious Sahitya Akademi 'Bhasha Samman' for contribution to classical and medieval literature in various languages.
K Meenakshi Sundaram has been selected for contributions to Classical and Medieval Literature (Southern) for year 2013 while Acharya Munishwar Jha has been recognised for Classical and Medieval Literature (Eastern) for the year 2014.
Charu Chandra Pande and Mathuradutt Mathpal have been jointly recognised for their work towards the enrichment of Kumauni. The 'Bhasha Samman' carries a cash prize of Rs 1 lakh, an inscribed copper plaque and a citation.
Meenakshi sundaram has written scholarly essays on Tirukkural and made rich contribution to medieval Tamil literature. Acharya Munishwar Jha has made valuable contribution in the area of Sanskrit literature.
PM Modi congratulates Sri Sri Ravi Shankar for Colombia honour
Prime Minister Narendra Modi has congratulated spiritual leader Sri Sri Ravi Shankar who has been honoured with Columbia's highest civilian award Orden de la Democracia Simon Bolivar en el grado de cruz Caballero.
The award has been given in recognition to the the spiritual leader's contribution in spreading the message of peace in society, inter-mediation in war, reducing stress and combating violence through yoga and breathing exercises.
Dr Biren Roy Space Award for DRDL's Eminent Scientist
Dr Prakash Chand Jain, an eminent scientist with the city-based Defence Research & Development Laboratory (DRDL), has won the prestigious Dr Biren Roy Space Science and Design award and was conferred the same by Vajubhai Vala, Governor of Karnataka in Bengaluru.
Dr Jain, while dedicating the award to his strong team, said that with persistent efforts, commitment to work, accountability for assigned tasks, quest for knowledge, drive for improvement and overall with passion for science, technology and dedication towards the task set forth, the Indian space science will ascend newer heights and the Make in India initiatives will flourish
He is also a Fellow of the Aeronautical Society of India and the Institution of Engineers (India). Currently, he is associated with IIT Delhi as AICTE INAE Distinguished Visiting Professor.




---
MORTALITY
Veteran journalist Praful Bidwai passes away
Veteran journalist, author, political analyst and anti-nuclear activist Praful Bidwai passed away in Amsterdam, Netherlands. He was 64.
He died due to cardiac arrest after he had choked on his food. About Praful Bidwai Praful Bidwai was born in Nagpur, Maharashtra in 1949.
He was a regular contributor to numerous magazines and newspapers like Hindustan Times, Frontline, The Nation (New York), The Guardian (London), Le Monde Diplomatique (Paris), and Il Manifesto (Rome).
He also had served as a member of the Indian Council for Social Science Research (ICSSR), Central Advisory Board on Education (CABE), and National Book Trust (NBT).
Awards:
He is recipent of the Sean MacBride International Peace Prize (2000) given by Geneva and London based International Peace Bureau, one of the world's oldest peace organisations.
BJP MP Dileep Singh Bhuria passes away
Senior Bhartiya Janta Party (BJP) leader and Lok Sabha MP Dileep Singh Bhuria passed away in Gurgaon, Haryana after a brief illness. He was 71.
He was Lok Sabha MP from Ratlam-Jhabua constituency of Madhya Pradesh.
He was first elected in 1972 as MLA of state legislative assembly from Petlawad seat. He is six time Lok Sabha MP and was elected for first time in 1980 from Jhabua constituency on Congress ticket.
Later he won from this constituency for five times from 1980 to 1996. In 2014, Lok Sabha election he was elected on BJP ticket from Ratlam-Jhabua constituency.
During previous NDA government led by Prime Minister Atal Bihari Vajpayee he had served as National Scheduled Castes/Schedule Tribes (SC/ST) Commission Chairman.




---
IMPORTANT DAYS
World Vitiligo Day – June 25 2015
World Vitiligo Day is an annual day specially

dedicated to people with Vitiligo

. It is conceived by Vitiligo Friends network from USA and Vitiligo Support and Awareness Foundation (VITSAF) from Nigeria.
The day aims to increase

awareness

about vitiligo and

raise funds

needed for research and education. It is celebrated every year on 25

th

June.
In India, it is being observed in Mysuru on 25

th

June by Mysore Dermatology Society (MDS) in association with the K.R.Hospital.
Vitiligo is a disorder in which

white patches of skin

appear on different parts of the body. This happens when the skin cells called

melanocytes

which are responsible for skin colour are destroyed.
Vitiligo can also affect the mucous membranes (such as the tissue inside the mouth and nose) and the eye. The prevalence of vitiligo is believed to be between 0.5% to 2% of the world population on the average.
---
SPORTS
Indian Railway Team won World Railway Championship 2015 in Tennis and Volleyball
T

he Indian Railway Team won the World Railway Championship 2015 in Tennis and Volleyball.
In the

Tennis (World Railways) Championship

2015, Indian Railway Team defeated France by a margin of 3-1 in the finals and won USIC Tennis Championship 2015. It was held at Nuremberg, Germany from 31 May 2015 to 6 June 2015.
In the

Volleyball (World Railways) Championship

2015, Indian Railway Team defeated Russian team in the finals and won USIC Volleyball Championship 2015. It was held at Gomel, Belarus from 10 June 2015 to 17 June 2015.
USIC (Union Sportive Internationale des Cheminots) is an international railways sporting association with members from various countries. The purpose of USIC is to encourage the practice of amateur sports among railway employees in all over the world.
It encourages a spirit of comradeship in accordance with the Olympic ideal and develops a spirit of loyalty, tolerance and democracy among them.
Bangladesh won 3-match ODI series against India 2-1
Bangladesh in June 2015 won the three-match One Day International (ODI) Series against India 2-1 played in Dhaka. This was Bangladesh's first series win against India.
India batting first in the third match of series scored 317 runs at a loss of six wickets and in reply to the target Bangladesh was bowled out at a score of 240 in 47 over.
This series win helped Bangladesh to enter into the Champions Trophy.
Mustafizur Rahman of Bangladesh claimed the Man of the Series Award for his outstanding bowling performance. He picked up 13 wickets in the three matches.
Earlier, the two nations played a test match from 10 June to 14 June at Khan Shaheb Osman Ali Stadium in Fatullah. The match ended in a draw and Shikhar Dhawan of India was declared as the man of the match.