Companies Current Affairs
Which company in India has bought world's most sophisticated armoured Mercedes to protect chairman and managing director on 20 June 2015?: Reliance Industries
Explanation: The fortified Mercedes Benz is mounted on a normal S600. The RIL car has Level-9 vehicle resistance (VR9), the highest available currently and was customised at Benz's Sindelingen plant in Germany. The car was purchased to safe guard the Anil Ambani who has got Z -category security since April 2013. RIl has waited for the 8 months as they were in at 57 number in the queue to get this car. RIL's 2015-model S600 V-9 armoured vehicle is the first in India. Actor Aamir Khan has the 2014 model.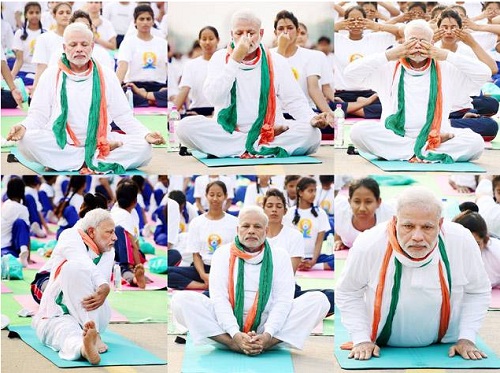 Economy Current Affairs
Railway minister Suresh Prabhu on 21 June 2015 flagged off India's first diesel electric multiple unit (DEMU) train service with an air-conditioned coach in which city?: Kochi
Explanation: After the DEMU's inaugural, service would be withdrawn temporarily and replaced with MEMU (mainline electrical multiple unit) train till the completion of renovation work of Harbour Terminus and Old Railway Stations. The Angamaly-Ernakulam-Tripunithura-Piravom train service is expected to help in reducing traffic congestion in the state's fastest growing city. This si the first time railways has provided AC coaches/service for the DEMU trains. Features of the AC DEMU trains:
The AC coach provides reclining type comfortable cushion seats for 73 passengers similar to air-conditioned chair car of inter-city express trains.

The train is equipped with bio-toilets and fully vestibule for free movement of passengers between coaches.
Finance Current Affairs
Country's top stock exchange NSE will introduce which kind of Transaction facility on its web-based Mutual Fund platform 22 June 2015?: An overnight liquid transaction facility
Explanation: Similar product is launched few months backed by BSE in which small players can also along with Traders for a single night in liquid funds between 9:00 am to 1:00 pm. This kind of transaction facility will only be available on Mutual Fund Service System (MFSS) web-based platform (Mutual Fund Service System (MFSS) is an online order collection system provided by NSE to its eligible members for placing subscription or redemption orders) and in physical mode only. However as per the exchang, under the new facility, all liquid schemes allowed by respective asset management companies (AMC) would be available for placing orders.
General Current Affairs
Which UK-based philanthropist has been chosen for the VK Krishna Menon award in recognition of his outstanding professional and altruistic achievements, contributions and services to the community and wider multicultural society?: Benni Joseph Mavelil
Explanation: The V K Krishna Menon award is given to outstanding Indian patriots who have served in the Diaspora and also distinguished themselves in various fields including science, literature, business, politics, diplomacy and philanthropy. Thus, Mavelil, President of the UK Knanaya Catholic Community, will receive the award at a function here hosted by the V K Krishna Menon Institute later this year for his outstanding professional and altruistic achievements, contributions and services to the community and wider multicultural society. Mavelil is originally from Kerala and has been living and working in the UK for over a decade.
India sets 2 world record on the eve of celebrating the world 1st Yoga Day. The UN has recognized the world Yoga day on which date?: 21st June
Explanation: 21st June 2015 was celebrated as the First ever Yoga day internationally. United Nations has recognized 21st Day of June as the world Yoga Day. Thus, On the eve of first Yoga day India set 2 world records :
The largest yoga session ever with 35,985 participants
The most nationalities, 84, taking part at a single venue.
The earlier record on the first count was held by Vivekanand Kendra, a Gwalior-based institute, with 29,973 participants. The event spread across India from the silver stretches of the Rann of Kutch to INS Virat on the high seas, to passengers in mid-air on morning flights. Ayush is estimated to have spent Rs 30-40 crore organizing the event across 650 camps. Abroad, enthusiasts spread themselves below the towering irons of Eiffel Tower and the phlegmatic temples of Cambodia. President Pranab Mukherjee also participated in an event at Rashtrapati Bhawan in New Delhi. In the United States, External Affairs Minister Sushma Swaraj will preside over the International Yoga Day celebrations in the United Nations today. Swaraj will be joined by UN Secretary General Ban Ki-Moon, President of the General Assembly Sam Kutesa, Congresswoman Tulsi Gabbard, spiritual leader Sri Sri Ravi Shankar and several other diplomats at the commemoration at UN headquarters.
International Current Affairs
What is the name of the world's largest cruise ship that made its maiden entry into water in France on 19 June 2015?: Harmony of the Seas
Explanation: "Harmony of the Seas" is the name of the world's largest cruise ship of Royal Caribbean that is being constructed since 2013. Harmony of the Seas cruise ship weighs about 227,000 tons and measures 1,187 feet, which is 50 meters longer than the height of the Eiffel Tower. The ship will carry 6,360 passengers along with 2,100 staff. The test run is expected from mid February 2016 however the first voyage could take place in May 2016 from the United Kingdom to Spain. The second biggest cruise ships are also owned by Royal Caribbean and are named "Allure of the Seas" and "Oasis of the Seas." Both weigh 225,000 tonnes.
Technology Current Affairs
Which international airport's Wi-Fi was declared the fastest in Wi-Fi service in the world recently in a survey conducted by internet speed-test watchdog RottenWifi?:Suvarnabhumi Airport, Bangkok
Explanation: RottenWifi, an international internet speed-test watchdog, had conducted this survey in over 130 airports all over the world and found Suvarnabhumi's Wi-Fi speed topped all airports at 41.45 mbps. the Second spot was won by the airport in Chattanooga, Tennessee, where the speed was measured at 30.99 mbps. Dublin Airport ranked third with 19.45 mbps followed by Vilnius and Helsinki Airports at 18.04 and 17.46 mbps respectively.
- See more at: http://www.time2study.in/current-affairs/current-affairs-22-june-2015-194.html#sthash.yV7kBq8C.dpuf
Trending
Now file complaint with police through mobile phone
Yoga Most Easy Way to Save Young Generation: PM Narendra Modi
Ban Ki-moon rocks at UN's inaugural World Yoga Day
Mustafizur six-for gives Bangladesh first-ever series win over India
Vice President office says Ansari was not invited to Yoga Day event
Food price surge puts Raghuram Rajan on the back foot
Latest on church shooting: Trayvon Martin's parents speak
India
Indo-Pak bonhomie: Modi governmnet repatriates 88 Pakistani fishermen
Lalit Modi row: Mallikarjun Kharge to take up matter in Parliament
Death toll climbs to 96 in Mumbai hooch tragedy, seven arrested so far
MP journalist burnt to death over property deal, two arrested
International
Afghan Taliban offer government workers 'hotline' number to defect
Angelina Jolie visits Syrian refugees with her daughter Shiloh Jolie-Pitt
Few clues in Detroit shooting that killed 1, hurt 11
Yemen FM: Houthis in Geneva were like 'ghosts'
France's Fabius says frozen peace process could reignite violence
Myanmar's Suu Kyi eyes landslide election win
Business
Government Does Not Intend to Legislate Retrospectively: Arun Jaitley
India's aviation growth to be double of global average: Airbus
NSE to begin overnight investment facility
Global brands stretched by India's food safety record
Switzerland admits being 'attractive' for money laundering
Only 0.35% domestic LPG users gave up subsidy
Technology
Flipkart to sell OnePlus smartphones
You can now go shopping on Twitter
Smartphone with 10000mAh battery hits market
Google, Apple, Microsoft, and Mozilla Partner to Build Faster Web Browsers
Government working on a new telecom policy for lawful monitoring of calls and messages
Sports
Zimbabwe Cricket yet to resolve rights issue, puts India series in doubt
Bairstow leads England to thrilling series win over Kiwis
Rosberg gets the jump on Hamilton
FIFA scandal: Arab League slams `hateful campaign` against Qatar
Andy Murray wins fourth Queen's Club title with two wins in a day
Rohan Bopanna, Florin Mergea reach Gerry Weber Open final
Science
Trinity Colleges unveils TASSAT satellite building project for students
'Messy' teenage years of quasars unveiled
First humanoid robot in space wins NASA invention award
Racing towards mass extinction