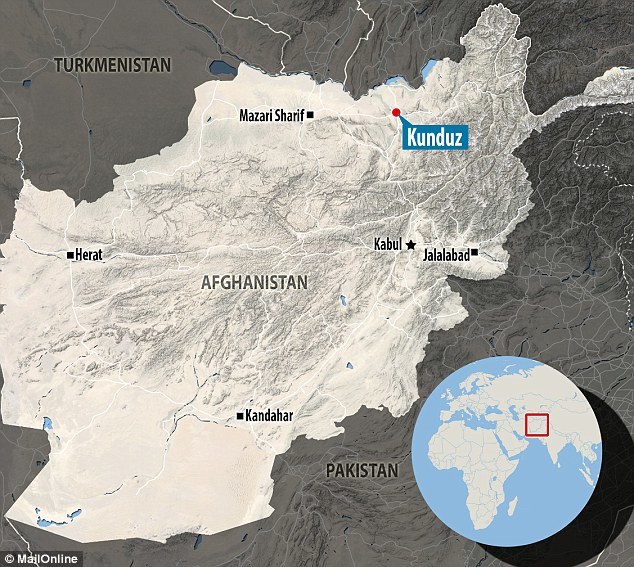 1. Taliban capture Afghan's Kunduz city in a massive assault
(i) The Taliban captured the city of Kunduz in northern Afghanistan on September 28.
(ii) This event marks a setback not just for the Afghan government but the US and NATO that have been struggling to bring the situation under control for years.
(iii) Latest news reports say that Afghan forces have arrived at Kunduz airport ready for a counter-attack and an operation would soon be launched to rescue the city.
2. Super typhoon Dujuan wrecks Taiwan
(i) Super typhoon Dujuan killed at least two people and injured over 300 civilians in Taiwan.
(ii) The storm followed by rains has wrecked havoc in the north of the island leaving cities without electricity and resulting in landslides in some parts.
(iii) Over 12,000 people have been evacuated and almost 3,000 are in temporary shelters.
3. Forward Markets Commission merges with SEBI
(i) The capital markets watchdog Securities and Exchange Board of India (SEBI) and the former commodities regulatory body Forward Markets Commission (FMC) were merged on September 28. The ceremony took place in Mumbai in the presence of Union Finance Minister Arun Jaitley.
(ii) The aim is to systematize regulations and stop speculations in order to drive holistic growth.
4. Rs.1.22 lakh crore to be disbursed under MUDRA scheme
(i) Finance Minister Arun Jaitley recently announced that the government aims to disburse Rs.1.22 lakh crore by the end of FY15-16 under the Pradhan Mantri MUDRA (Micro Units Development Refinance Agency) Yojana.
(ii) Jaitley also launched a week-long (September 25-October 2) Mega Credit Campaign under PMMY in New Delhi.
(iii) Jaitley informed that till date Rs.24,000 crore has been disbursed to about 37 lakh small entrepreneurs under this scheme.
5. Expert panel to review civil services examination pattern
(i) The government recently formed an expert panel to look into issues pertaining to civil service examinations- such as age relaxation, eligibility, syllabus and exam pattern. It will be headed by former Chhattisgarh-cadre IAS officer B S Baswan.
(ii) Changes will be effected in the civil services examination based on the panel report with the aim of providing a balanced field for aspirants coming from diverse fields of arts, science, commerce, engineering and medicine, among others.
6.
Lata Mangeshkar award to be conferred on noted violinist Prabhakar Jog
(i) Prabhakar Jog, noted violinist and music composer, will be awarded the 2015 Lata Mangeshkar Award for Lifetime Achievement for his contributions in the field of music by the Maharashtra government.
(ii) The Maharashtra government has chosen Jog for this honour due to his significant contributions to the Marathi and Hindi music industry over the past 60 years.
(iii) The award will carry a cash prize of Rs.5 lakh, a citation, a trophy and a shawl.
7. Canadian mathematician Jacob Tsimerman to be awarded 2015 SASTRA-Ramanujan Prize
(i) Dr. Jacob Tsimerman, a mathematician and assistant professor at the University of Toronto, Canada will be given the 2015 SASTRA-Ramanujan Prize.
(ii) The award will be presented to him at the International Conference on Number Theory, which will be held at SASTRA University in Kumbakonam, Tamil Nadu.
(iii) He was given the honour for his research in Number Theory and related topics.
8. Flowing water present on Mars: NASA
(i) NASA scientists have confirmed the presence of liquid water on planet Mars giving credibility to the search for life beyond the Earth and strengthening hopes of people wishing to travel to the red planet.
(ii) "The existence of liquid water, even if it is super salty briny water, gives the possibility that if there's life on Mars, that we have a way to describe how it might survive," said John Grunsfeld, associate administrator for the Science Mission Directorate at NASA.
(iii) Some of the earliest missions to Mars revealed several sources of water. NASA rovers are finding that there's a lot more humidity in the air and that the soil is much more moist than anticipated.
(iv) Jim Green, director of planetary science at NASA stated that the time is ripe to look in the right places and investigate whether life existed in Mars.
9. Abhinav Bindra bags gold at the Asian Air Gun Championships
(i) Indian shooter, Abhinav Bindra, recently won a gold medal in the men's 10-metre Air Rifle event of the Asian Air Gun Championships in New Delhi.
(ii) event of the Asian Air Gun Championships in New Delhi. The 32-year-old shot 208.3, striking ahead of Kazakhstan's Yurkov Yuriy (206.6) and Korea's Yu Jaechul (185.3).
10. Pankaj Advani wins IBSF World Billiards Title
(i) Pankaj Advani, India's ace billiards player, won the IBSF World Billiards title on September 27, in Australia. This is his 14th world title.
(ii) He defeated Singapore's Peter Gilchrist in the final by 1168 points when the match ended after 300 minutes.
11. Lewis Hamilton wins Japanese Grand Prix
(i) Mercedes driver Lewis Hamilton won the Japanese Grand Prix on September 27, 2015 moving a step closer to bagging his second straight F1 title.
(ii) The Briton crossed the finish line in 18.9 seconds pushing back team-mate Nico Rosberg at the first corner.
(iii) This is Hamilton's 41st career win and his eight title in this season. Sebastian Vettel came third in the race.